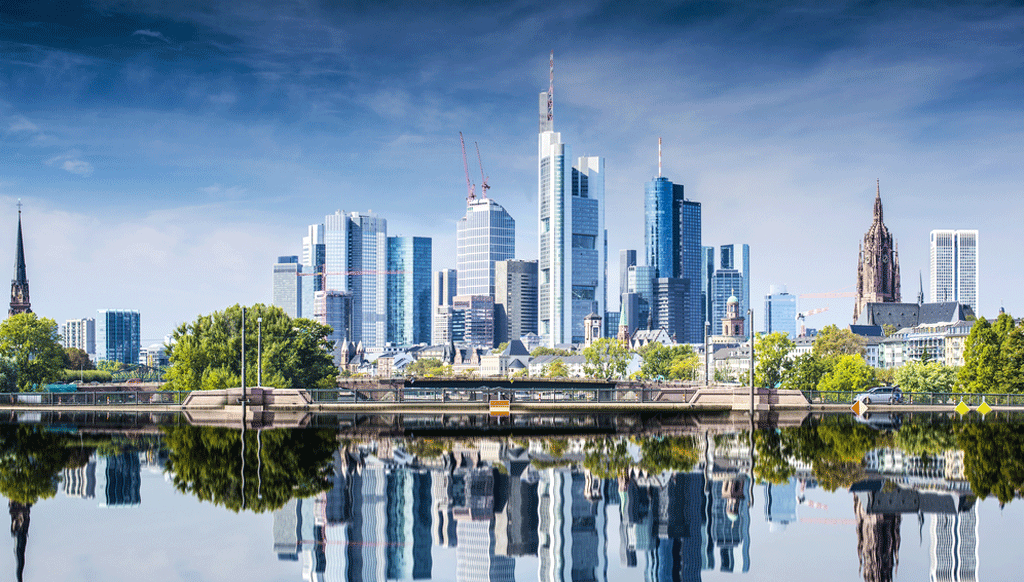 COSMOPOLITAN HAVEN | Frankfurt offers the seasoned traveller a host of avenues to indulge it, from culture to cuisine to consumer comforts, the city has it all
Moving on from its burgeoning banks and shiny skyscrapers, the city of Frankfurt is a veritable treasure house for the global traveller looking for a respite while still staying connected to all the 'mod-cons'. Not only about apple wine, sausages and schnitzels, Frankfurt is also the window to the trendy, chic, swish and savvy side of Europe
Frankfurt, the largest city in the German state of Hessen, is a metropolis which offers one, within its confines, the best that Europen culture has to offer. A centre of trade and commerce, the city has its place on the cultural map as well with a vibrant art and performance scene, a great culinary scape and a modish local lifestyle. Home to Messe Frankfurt and also some of the world's largest trade shows, be it the Frankfurt Motor Show or the Frankfurt Book Fair, the city has many tourist attractions with museums like Stadel, leading opera house [Oper Frankfurt] and concert hall [Alte Oper], cathedrals, tall towers dotting its landscape along with restaurants, marketplaces and much more to keep one engaged. Going beyond the obvious and culling out the address one needs to bookmark when Frankfurt-bound, here is a curated guide to stay, shop, eat like a boss.
A mix of old style luxury and new age hideouts, Frankfurt offers a range of options to the cosmopolitan traveller who is looking at, maybe, not just spending the night but is also game for some eclectic experience alongside. Here are our property picks for such discerning globe-trotters
Jumeirah Frankfurt – The striking 28-storeyed Jumeirah Frankfurt, with its glass tower and shiny saddle back roof, is located right in the heart of the city – just a few steps away from the popular 'Zeil' shopping street and the financial district. They take their motto 'Stay Different' seriously as well, given some of the extraordinary features of the hotel – from being an architectural icon on the Frankfurt cityline to housing original artworks by local artist Hartwig Ebersbach peeking at you throughout the hotel, to nurturing beehives on the roof that produces the hotel's own organic honey, to having body-heat detectors and motion sensors that regulate temperatures and energy consumption in the guest rooms, Jumeirah Frankfurt is a trendsetter in its own right. Presenting a choice of 217 spacious guest rooms and suites, with amazing views across the city, this indulgent hotel offers you a taste of Frankfurt's very best, whether you're dining at the fabulous Max on One restaurant, or enjoying a Skyline Honey Massage at Talise Spa.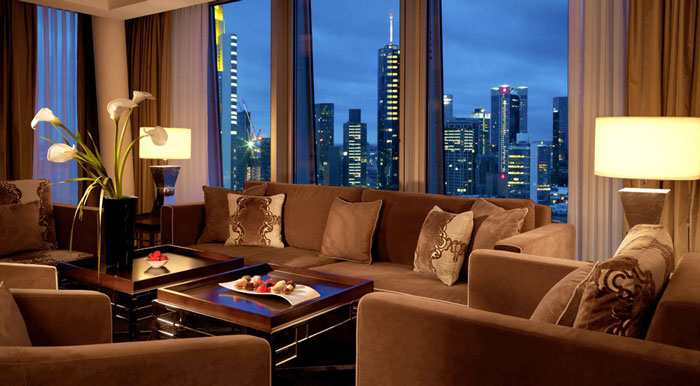 Villa Kennedy – This was once a grand family home built in 1904 and then renamed in honour of President John F Kennedy's visit in 1963. Its neo-Gothic façade, with its overhanging aura of an age-old family mansion, belies an edgy interior with minimalist furnishings and avant garde art. The hotel is a short drive from the airport and is located well given its proximity to the Museum Embankment. Constructed in a charming old style, there is a scenic and serene garden at the centre of the villa's layout and makes for a great view from all its rooms, while doubling up as a tranquil setting for alfresco dinner and drinks in the balmy weather. One can avail of an array of treatments at the Villa Spa and if that does not suffice for relaxing activities, then there is also an indoor pool, jacuzzi, steam bath, sauna and fitness centre with yoga and pilates classes. For some good Italian, one need not go further than the in-house restaurant Gusto with its authentic Italian cuisine created by celebrity chef Fulvio Pierangelini and for drinks, just head to the JFK bar with its resident mixologist.
The Pure Hotel – Situated at Niddastrasse in Frankfurt am Main, this new age construction is a minimalist dream in pristine white, offset at intervals with striking orange backlit mirrors. This boutique property is an award-winning member of the Design Hotels, and aptly so with its white leather, Thassos marble, and light gray floors which keep the ambience on a cool and subtle yet warmly welcoming tone. The rooms are all furnished in a lean and clean way with light fabrics, straight furniture and high ceilings warmed by glossy African zebrawood and oak parquet. The Pure's patio goes on to highlight the functional design aspect of it becomes a lovely communal space to chill out on the oversized lazyboys strewn around and the fountains and bamboo around.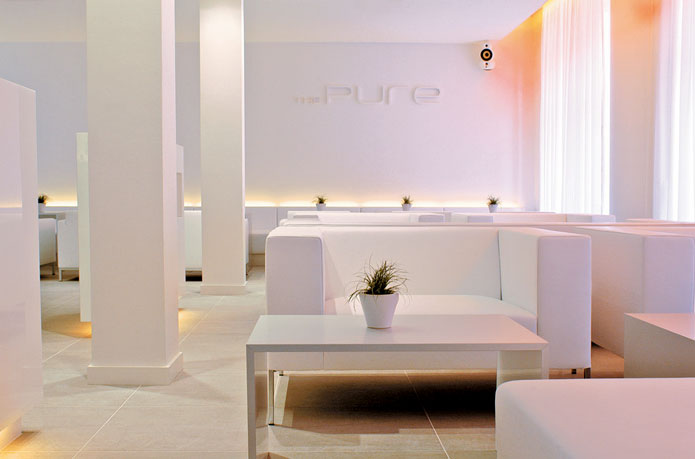 24Hours Hotel by Levis –  This is a concept hotel, much talked about in fashionable circles, and a result of the collaboration between hotelier Christoph Hoffmann and his three partners who, interestingly, commissioned artists and film-set designers to recreate an interior aesthetic based on literature and pop culture. As the 25hours hotel group entered into a unique collaboration with the classic American denim brand, Levi's, this lifestyle hotel houses rooms sized as M, L, and XL and done up in blue hues. The hotel's six floors, with a total of 76 distinctive guestrooms, are each commemorating a different decade of the twentieth century with their ambience and differing colour palettes, furniture, and music, with a special emphasis on the rock 'n' roll era so conjoined with the idea of Levis.
Moving onto retail therapy, once again, we have before us an array of places which are must-visits not just for their potential as the consumerists' mecca, but also because some of them offer a story to go along with the product. So, we have here for you a mix of the luxurious, the best and the off-beat to go spend your bucks at when in Frankfurt
Zeil – is the city's main shopping street and stretches for about a mile [the 'Golden Mile'] across central Frankfurt. The broad streets are flanked by cute outdoor cafes, department stores and boutiques. While multi-level department stores like Karstadt and Galeria Kaufhof, [especially known for its impressive foodhall], have been mainstays, this area, often referred to as "the Fifth Avenue of Germany," is also the setting for stores like Peek & Cloppenburg, which offers designer labels and also some mid-range labels for men, women and children. Saturdays are also great days to hang around this area as one can see the outdoor farmers market on the Konstablerwache.
Kleidoskop – Located in Nordend, this is where you can indulge in some 'thrift' shopping, Frankfurt style, with stores selling barely-used designer at a fraction of the real price. Armani, Gucci, Hugo Boss, Alexander McQueen – you can find most big brands here. What makes it special is that it is also a haven for buying wares from Frankfurt's young and hip designers.
Bucherer – Located in Kaiserstrasse, this is the Frankfurt branch of the Swiss luxury watch and jewellery brand, which is actually spread out as a two-storeyed emporium with an enviable of high-end timepieces, diamonds, gold and other baubles not only from Bucherer but also from Cartier, Rolex, Audemars Piguet, Chopard, Patek Philippe and other luxury design houses.
Höchster Porzellan-Manufaktur – This heritage porcelain maker, also having obtained in 1746  a royal license by the crown prince and archibishop of Mainz, is Germany's second oldest handcrafted porcelain brand with its much sought-after fine plates, cups and animal figurines. The company's innovative "transparent manufactory" is located in west Frankfurt and is a must-visit with its enthralling guided factory tour allowing visitors to see the entire process of porcelain making, and not to forget, and the chance to look into their showroom for some take-home beauties.
Kleinmarkthalle – This is a favourite Frankfurt haunt and a vibrant food market where fresh produce abounds, from fresh fruits and vegetables, cheese, cut flowers and plants, meats and organic German sausages, along with some instant edibles like baked goods and platefuls of local cuisines.
Like any commercially critical, cosmopolitan city of the world, Frankfurt has a very gregarious eat-out scene and there are some names which set the gold standard, while there are also those which redefine good for the global taste-buds. We bring you here, our favourites from among the best out there to gorge on
Gargantua – This pretty place belongs to the famous German food journalist and chef Klaus Trebes and has maintained its place among the high and mighty of the Frankfurt food scene. A place to splurge at, the food is German with a French influence and there are 'Gargantua pairings' to order, while there are also set menus, but the food is worth each dime spent on it as it comes with the exotic touches of a master chef.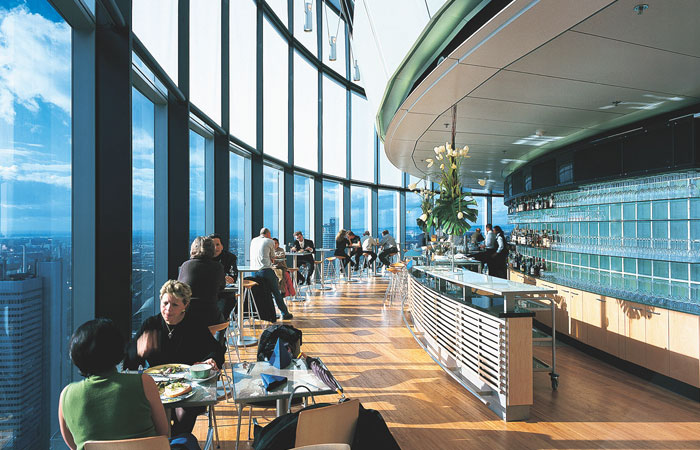 Main Tower Restaurant – Located on the 53rd floor of the eponymous skyscraper, the Main Tower Restaurant offers a view to go with its lavish three-, four- and five-course set menus which are altered as per the season and include European classics like suckling pig, smoked halibut or pumpkin risotto to go with their wide selection of local white wines, international red wines and champagne.
Café Laumer – This café has been a Frankfurt favourite since 1919 and that is no mean feat. To add to its charm, it is housed in a beautiful old building in the Westend university district, and serves breakfast, lunch and light dinner. You can choose from soups, salads, quiche, croissants and sandwiches as well as local specialties like schnitzel, sausages and Frankfurter tafelspitz (boiled beef in a green sauce) from the menu which also offers a range of teas and coffees, wine, beer and other spirits.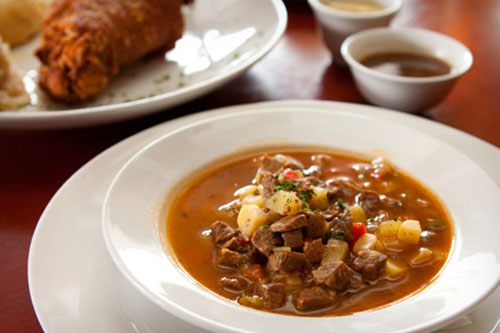 Ebert's Suppenstube – This deli stays true to its name and tempts you with its speciality soups – vegetable, chicken, pea, potato, lentil, liver dumpling, goulash, chili con carne – among other dishes like German-style pancakes with raisin and almond applesauce, and wild salmon fillet with leeks etc. Located on the pedestrian-friendly Fressgass, Ebert's is an eating institution where you can eat out on the shaded sidewalk tables or get your food packed to take away to a nearby park.