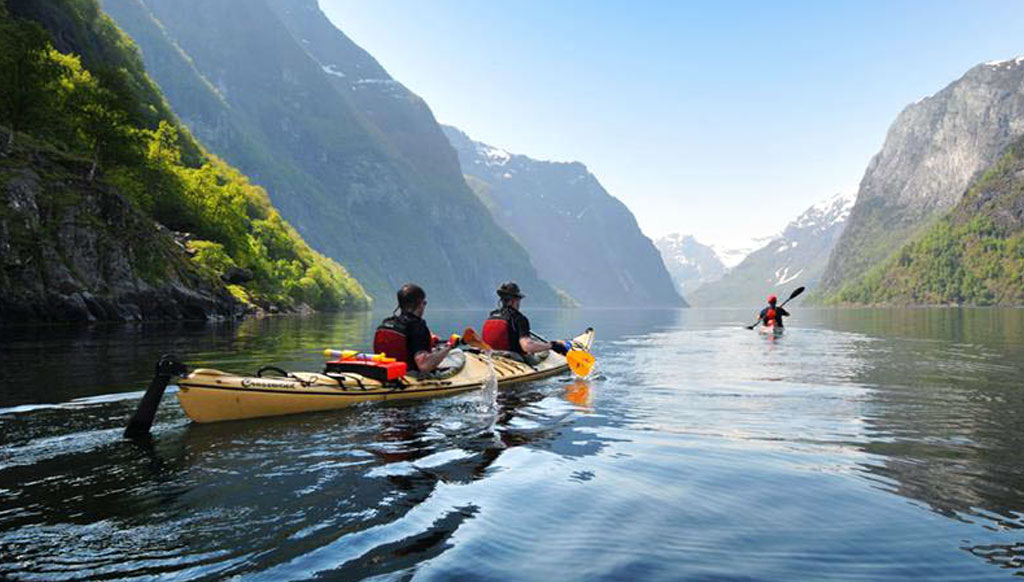 ADVENTURE TRAILS | For an action packed getaway, India has a lot of avenues to offer which make way for a variety of nature sports
If your definition of chill is to have thrills to the fill, then you are the one for active vacations, or adventure holidays. Offbeat trails and outstanding treks are your bastion for fun, and we have searched the length and breadth of our country to suggest a range of accessible and exotic destinations which are not only beautiful but made for a bold expedition, for the next time you plan to take a break
If the thrill of a vacation equals an adrenaline rush for you, if climbing perilous heights and plumbing the precarious depths of nature's expanse gets you going, then you are the adventurer whose idea of a wholesome holiday doesn't stop short at one only for pleasure, pastime and pottering about aimlessly. For thrill seekers among us, adventure getaways are the new frontier in experiential vacations and make perfect sense for those seeking an outing by themselves and for those who like to hang out with their band.
In terms of what India has to offer to the adventure sports enthusiasts, the avenues are many and so are the terrains. From taking off for a solo biking trip to the rugged mountains, to camping amidst a wildlife ecozone, to scaling the waves of a legendary river, there's much on offer here for the nature sports enthusiasts. Whether one is an expert or a beginner, enthusiasts now can also take help from specialist adventure tour planners for putting together an itinerary which can give one an adrenaline rush on sight and is customised to the client's wishes. This bespoke planning is what imparts a luxe touch to active holidays designed by, say, the Mercury Himalayan Expeditions or Adventure Nation, which also offer packages which are pick-as-you-go, suitable for beginners. Or, one could head to Thrillophilia, billed as the 'one spot destination of all adventure and eco tours in India', which offers itineraries for rappelling, boulder climbing, hiking and camping and a whole host of other activities. Its co-founder, Abhishek Daga, understands the market demands very well when he says, "People normally take breaks and want to have best experience possible during their holiday time so we suggest them on lot of things, plan the entire tour for them and also guide them on safety measures etc."
Moving on to the actuals, we have slotted some great activity options for adventure and nature enthusiasts and have matched them with the relevant locations, across India, which are the best suited destinations for indulging in an action-filled holiday. We will start with the one which is not all that novel, but still manages to amaze every person who experiences it for the first time. We mean paragliding. Literally giving wings to one's dreams, and throwing caution to the winds, this one is all about screaming wild and mid-air calisthenics, as you soar high into the air and have your own view of the miniature-esque etchings on earth's canvas. This aerial sport entails flying paragliders sitting in a harness, suspended below a fabric wing, part of a lightweight, free-flying, foot-launched glider aircraft. The favourite locations for paragliding in India include Ladakh, Darjeeling, Solang, up north and Goa. Apart from the singular experience of soaring over Solang Valley, Manali also offers one the opportunity to go zorbing where you strap yourself into a giant PVC ball, and go crazy riding down snowy slopes.
Further down south, in God's own country, one can also indulge in another variation of this sport – parasailing. Parasailing, also known as parascending or parakiting, is a recreational kiting activity where a person is towed behind a vehicle (usually a boat) while attached to a specially designed canopy wing that reminds one of a parachute, known as a parasail wing. Varkala Beach, Payyambalam Beach and Alappuzha Beach are all there for parasailers who can enjoy an aerial view of Kerala's backwaters and palm dotted green landscape while taking off above the azure waters.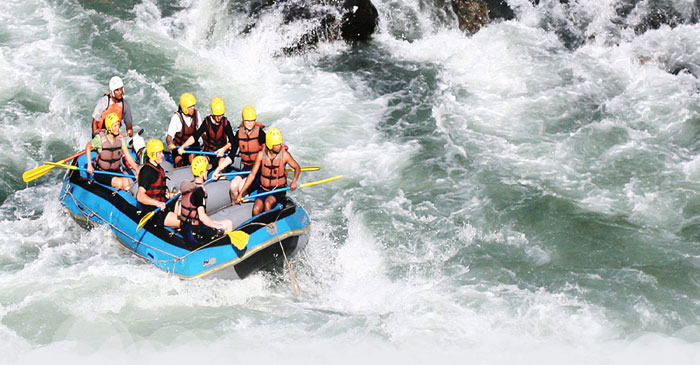 Skipping on to the next revered element of mighty earth, we come to the exciting expanse of aqua sports and there is no other activity more riveting than white water rafting. While we might have all been to Rishikesh, at some point, for some rafting, there are other more challenging and picturesque aquatic realms which call out to the adventurists. High up on the challenge quotient is the Barapole waterway in South Coorg which has many rapids criss-crossing the stretch, making it a super thrilling ride over the waves. There is also Dandeli, beckoning the hardcore rafters with its undulating 12 km stretch and a roller coaster ride flanked by picture pretty nature. And if one is up for trying some less trying forms of rafting, which still enthrals, then one can try river rafting in the Brahmaputra, where the flora and fauna of sanctuaries like the Nameri National Park are an added bonus. For a similar scenic rafting experience, equally rich in wildlife sightings, one can also opt for bamboo rafting in the Periyar Lake, cutting through the beautiful Periyar National Park. Combining a camping expedition with white water rafting is also a great idea as most of the rafting sites allow for camps to be set up by the banks. Coorg also has the Coleman Camping tour where one can trek by the stream or up the Brahmagiri Hills or go white water rafting, all while enjoying living under the stars.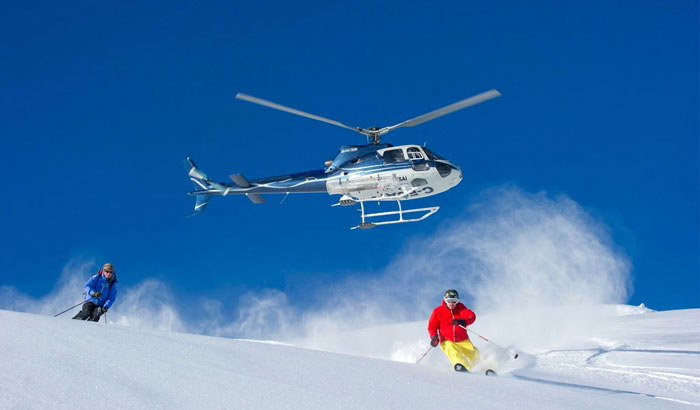 Onwards to ascending the difficulty quotient and the corresponding heights of the earthly terrains, we come to the risk-lovers paradise which stretches beyond the mountain slopes, right to its pinnacle. Himachal Pradesh is one such paradise for the skiing enthusiasts who love the feel of snow under their feet and the rush of speed as they plough their way through the white cloud, clearing their way down. Situated 9000 ft above sea level, and with tracks suited to both the beginners and pros, Kufri offers all that the snow trekkers dream of, and could very well be India's answers to the Alps. Then there are the other two skiing hotspots, Mahasu and Narkanda where the best time to visit is during the snowfall in between the months of December and February. Also, close by in Uttarakhand there's Auli with its 3 kilometre long slope, a 500 metre long ski lift, making up a stretch worth the avid skier's salt.
Taking the fun a notch further up, there's also heli-skiing in which a chopper brings you to the peaks, followed by a drop at high altitudes, continuing till you reach the skiing base. Hanuman Tibba is a much favoured heli-skiing point, while the vistas are really opening up also in Gulmarg, in Jammu and Kashmir.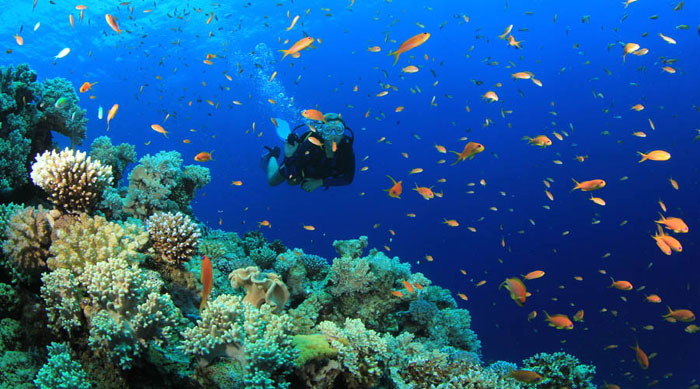 Descending from the dizzying heights, sports lovers can go vertically beyond to plumb the intriguing depths of India's water bodies with a rich marine bio-diversity. Scuba diving to the floor of the ocean, passing by shoals of colourful fish, strange sea creatures and families of coral and rocks sounds all exciting but requires expert supervision. For those just starting out, try out scuba diving in the shallow shores of Goa, or go onto the Grand Island where underwater visibility is more than 5 m and affords enthralling views of coral gardens and much more. Lakshadweep, Andaman & Nicobar Islands are the other hot spots for underwater sports enthusiasts and one can go scuba diving or snorkelling in the blue waters to discover a whole new earth, as it were.
For those not very interested in something too precision-driven, there's a relatively laidback option of kayaking. A paddle, a picnic and a kayak is all that you require to be on a river and go further, enjoying the sights and sounds all around it. The Aguada river in Goa is a great one to kayak on, as it allows you to soak in the idyllic beauty of the Goan shores, while also letting you traverse its length.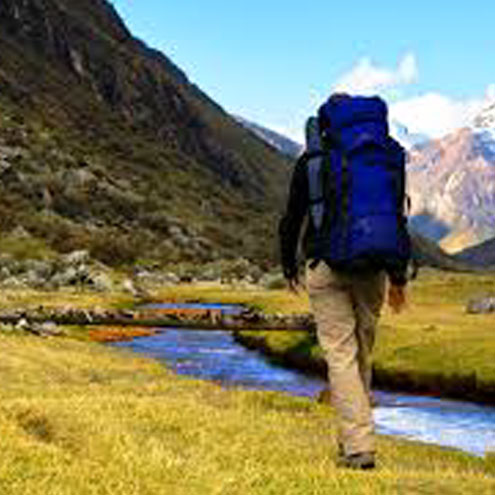 So much for the abundance of adventure sports locales all around, we now come to one which is rare in the sense that it is available, by virtue of nature itself, only between January and February every year. We are talking about the Zanskar River which freezes during these months and make up part of what is famous as the Chadar Trek, given one is trotting along on frozen ice, the precarious ground under one's feet is sure there and so are the awe-inspiring Himalayan horizons and stark monasteries one encounters on the way. If this were to not fit into your scheme or calendar, then head over to the Lahaul-Spiti Valley, for amazing trek trails, riverside camping, passing by quaint little villages, all at once like crossing the frontier of civilisation itself.
And if walking endlessly is not quite your idea of fun, then take to your beloved mean machine as the bike trip across Leh Ladakh is a biker's dream, what with the meandering roads, narrow passes, pit stops at quaint hamlets and a first hand view of ethereally beautiful Himalayan valleys, all the way up. And if mountainous terrains are not your cup of tea the take to the salt desert with your bike giving you a free run of the starkly beautiful Rann of Kutchh, where the inky blue horizons seem to melt into infinity.