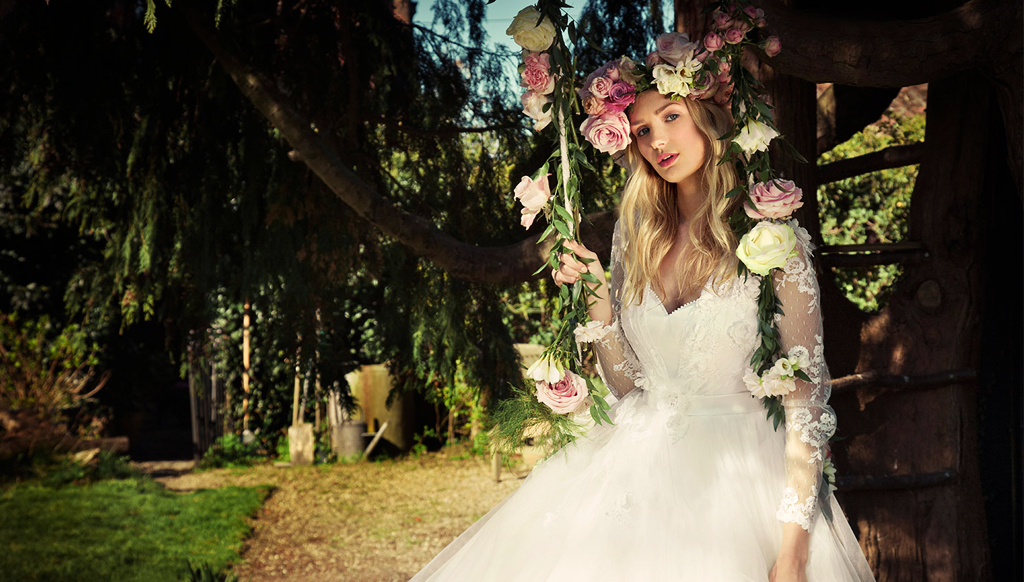 BOHEMIAN BRIDES | A new slew of brides are taking off the beaten track by going indie on what they wear, want and pack for their weddings
From ornate outfits to ostentatious ornaments, weddings are a literally heavy affair for the bride to be. Unless, one plans it to be different, defying the norms which do not suit the form of a today's woman who wants to enjoy her own wedding – it's her party of a lifetime (or just another before many to come). She is the boho bride, the one who loves her man as much as her books, who prefers artisanal tea to just champagne and who looks into the sentimental, sustainable value of things before choosing, and also before packing her trousseau. Here is a guide to all things bridal and boho, specially for her
Standing barefoot on sand with hair falling around the shoulders and the sun on my back sounds like someone's description of a beach vacation, except that this could very well be the setting for someone's bohemian beach wedding. And not lacking of so-called essential accoutrements [say shoes, shehnai and shenanigans]. A boho bride features proud in such a setting as she prepares to say the vows, her way and on her terms. Not a new-phenomenon, but definitely a new-age spirit, the much-travelled, art-inspired, earth-loving, aesthete who loves her wanderer's spirit and sports a child's innocence in a cynical world is our boho-bride – of the hippie chic and gypsy charm. Here is our bit to help this lover-of –all-things-different in packing a trousseau which exemplifies her spirit and beautiful self. We have looked for and selected such essentials, from the bold and the best out there, for our bride-to-be which will stand her in good stead as she glides across a new sea of adventures.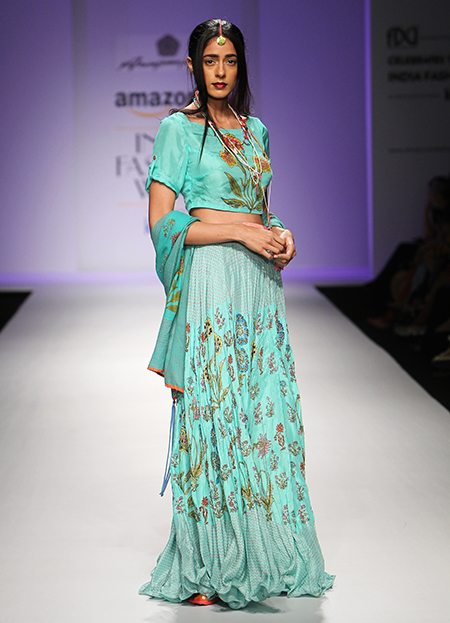 Bridal outfit by Anupama Dayal– The designer's eclectic, vibrant, print-rich collections are a must have for the new age bride who believes in functional beauty, at once modern in its way of interpreting tradition. Her latest collection, interestingly called Jamali Kamali, is named after a Lodhi era monument and is an ode to Delhi's heritage architecture. As mystical as the monument, (said to be the haunt of djinns and such spirits), the collection is free-flowing, ethereal and almost poetic like the Sufi saints. While Jamali comprises the Mughal inspired wedding ensembles, Kamali usesthe same design ethos but structures it into a divided skirt or a Persian trouser to be worn as a modern outfit. The beautiful colours ranging from shades of sandstone to that of the weathers includes a palette of hues such as ecru, sand, tones of red, ochre and lovely shades of pale blue. Making the garments fit for women who want to have as much fun at their weddings, rather than staying confined to a pedestal, are the fabric used – gossamer and light chiffons, light as air silks, beautiful cotton brocades – which bring in a dreamy charm and feminine grace to the lehengas, skirts, palazzos, kurtas and more. Leaving no doubts about their suitability as a special occasion garment, the pieces are studded with real and semi precious stones like turquoise, garnet and embellished lavishly with gold threads. The ornamental tassels, regal drapes, rich fabrics and Persian designs impart to the collection an eternal charm bound to make a wedding outfit one for the keeps, and at the same like wearable art. Our favourite pick is an ether blue gathered lehenga with a short cropped blouse with delicate floral motifs – perfect for a day wedding or an evening reception.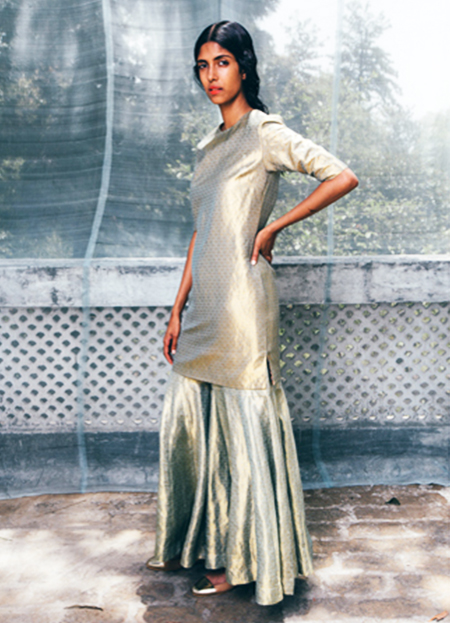 Sarees and dresses by Raw Mango –Sanjay Garg's quirky label, Raw Mango, is a wardrobe staple of saree-loving celebs across India. His stress on heritage weaves, traditional designs and simple silhouettes makes his sarees and other outfits distinctly sophisticated and contemporary at the same time. Once again, not a typical colour-burdened, over-embellishedchoice for a wedding trousseau but then we are not talking stereotypes here. The designer's fresh aesthetic is one for the avant-garde bride who knows her mind and her wardrobe too well.His Summer 2015 collection has sarees, lehengas, maxi dresses, long jackets, kurtas, shararas and more in subdued shades where the richness of the fabric holds centre-stage along with the tailored precision. Named beautifully as Dhara, Abar, Bayar, Achala, Neer, the pale blue maxi dress, the white straight kurta and pencil pants, the SurendriSaaree in burnished gold are delights for a wardrobe which will add beautifully to a free-spirited, arty bride's wedding wardrobe. Not catering to the general outburst of wedding colours, SanjayGarg's clothes are a return to original innocence where beauty needs no introduction and the wearer is as much part of the story as the garment itself. So for the bohemian, earth-loving, sustainable-fashion conscious bride-to-be these hand woven garments of exquisite local craftsmanship and indigenous raw material speak straight to the heart.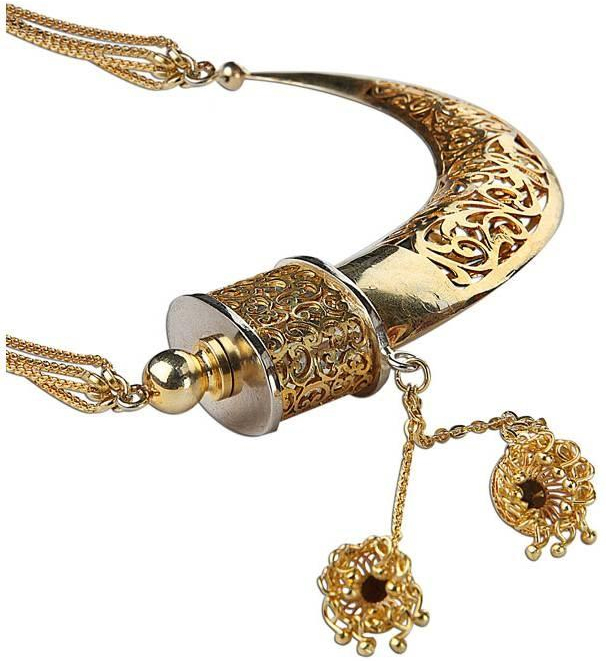 Statement  jewellery by Eina Ahluwalia–To introduce the designer, Eina trained under the pioneering conceptual jeweller Ruudt Peters in Holland, and studied at Alchimia Contemporary Jewellery School in Florence, Italy. David Lamb – MD, Jewellery at World Gold Council – had singled her out as one of the hottest talents to watch out for and she has proven her mettle, in gold, with her label now being a regular at Lakme Fashion Week with independent runway shows since 2009. Her collection is all about conceptual art jewellery which she believes is "not directed or bound by fashion and is more timeless". Going beyond jewellery which is all about "precious materials or conformity to tradition", you will find her work featured in all leading fashion magazines which have variously loved her Finger Haathphools, the Saxon Knife earrings, the Warrior Helmet earrings, the Through My Veins cuff, Take the Time necklace among other such interestingly named pieces. For the new-age bride who does not wish to be laden with carats and kilos of diamonds and gold, Eina promises a subtle yet statement-making aesthetic which will accentuate the outfit and not take away from it, or from the radiant beauty of the bride herself.  Her Wedding vows collection is a delight for fiery, feisty woman who loves to take an empowering stand against domestic violence. Some of the motifs worked into pieces of jewellery are those that invoke the power of the goddesses – swords, knives, trishul – all intricately woven into wedding jewels for a liberated lady's trousseau. This Collection underlines, "The underlying message is also to the families that their daughter's trousseau must be strength, support and knowledge, and not just gold. The 'trishul' or trident is symbolic of the trinity of Love, Respect and Protect which as words, are also used as motifs in the jewellery."/Pairing lovely filigree-edAdi Shakti cuff, the dainty Tara Maangtika, the bold Kirpan necklace with the Love Respect Protect brooch, all in 22k gold plating and handcrafted by Indian artisans, will make for a look which redefines bridal chic.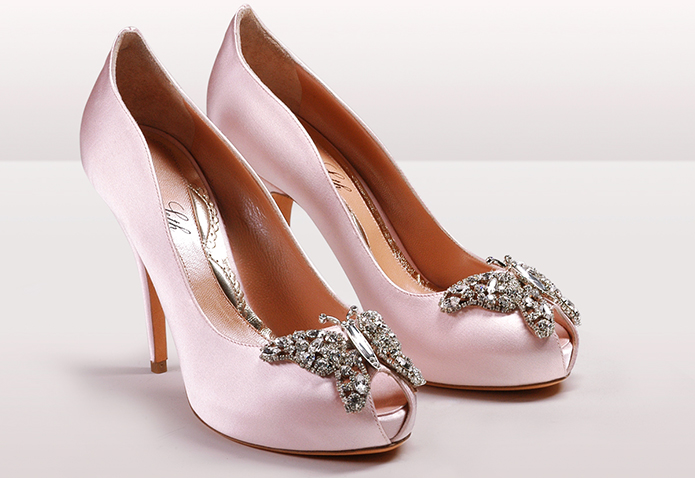 Farfalla Heels by Aruna Seth – London based shoe-designer, Aruna Seth, comes from a family firmly established in the shoe world. But while her father made practical, affordable, sports shoes, she wanted to make shoes fit for a princess and that is what she does with her namesake label being the footwear of choice at the Royal Wedding, and also for red carpet occasions. Acclaimed by fashion press around the world for her classic designs and attention to detail, her glamorous shoes in satin, suede and leather are designed to make your legs look longer, without compromising on the comfort factor. Her signature bridal heels are at the same time elegant, glamorous and cushy with different heel heights and styles embellished with lace detailing and studded with Swarovski. So, this item will promises the bling factor in a modern bride's trousseau harking back to the post-transformation charm of Princess Diaries, while keeping it super-comfy (unlike in the case of most other heels) with the customises Italian nappa leather padding. For a happy-go-luck bride on the move, these recognisably-designer shoes are the best pick for relaxed yet fabulous look. We totally heart the signature Farfalla Rose Satin Heel embellished with Swarovski Elements crystal butterfly standing tall on 110mm heels but promising cashmere like comfort.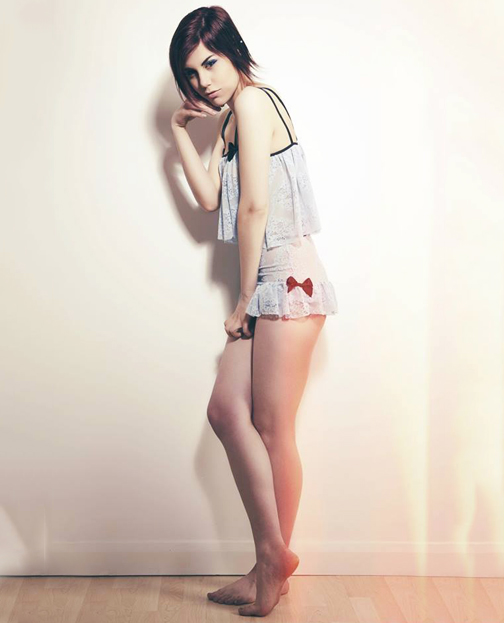 Bra and Suspender Set by Arabel – Talking of super girly shades and itsy-bitsy silhouettes with sheer lace and mesh – sounds like a stereotypical lingerie brand? Well, you are in for a surprise when we tell you it's vegan as well (and that must make your heart which loves sustainable fashion go aflutter). This is British handmade lingerie brand, Arabel, where each piece is designed, cut, sewn, and packaged by designer Sarah herself (how vintage is that?), allowing her to work with both custom sizing and bespoke (made to order) garments. Using high quality finishes, such as the delicate rolled hem on the pleated chiffon knickers or the exquisite organza butterflies that are each individually placed and sewn on by hand, her lingerie is refined, young and crafted in beautiful fabrics which will make you feel luxurious and comfortably chic. Working with British stretch lace, delicate pleated chiffon and handmade satin bows, this is a gorgeous selection of bridal lingerie – from bras, knickers, high-waist sets and robes – that is perfect boho-luxefor your honeymoon or wedding day. So, no more hankering after the same run-of-the-mill  luxury brands for plush inner wear when there is the niche,  'green' and glamourous Arabel to get bridal custom-made lingerie sets from.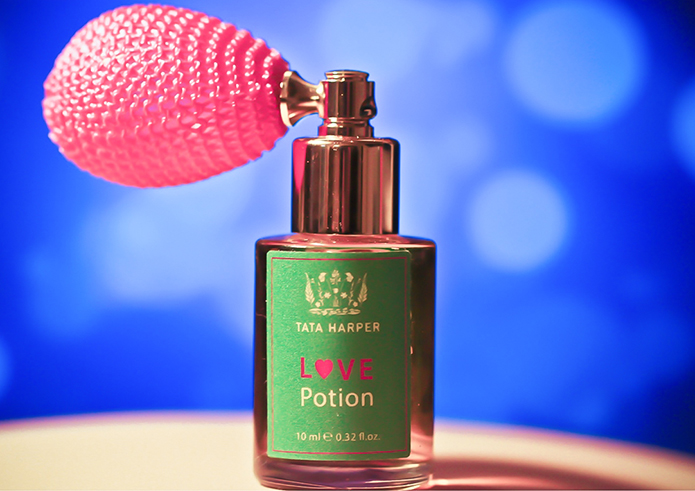 Love Potion by Tata Harper – Standing by the philosophy that "Beaty products should contribute to your health, not compromise it", is Tata Harper's bespoke 100% natural and non-toxic cosmetics brand which is one of the best when it comes to effective products available in the natural skin care market. Having quite a celebrity following too, the brand is a must-have for the women looking for beauty and wellness products that don't compromise on anything: quality and safety of ingredients, feel or results.From anti-ageing products to restorative and regenerating skin care catering to various concerns, this range has many best-sellers from the volumizing lip and cheek tint to something called a Love Potion, we have a lot of personal favourites from Tata Harper's line. Since this is for the bride-to-be, let us tell you a bit more about this love potion which comes in a cute green bottle with a plush pink pump and contains, as they call it, 'liquid love' – an aromatic blend of ten of the world's most potent aphrodisiac essential oils to stimulate the senses, heighten sensuality and immediately inspire an inner sense of beauty and confidence. This aromatherapy concoction has elements to help focus the energy of your body and mind on feelings of love and warmth while accentuating overall attractiveness – and that is something to say for a green bottle of charm. Perfect for a boho bride's trousseau, this and other products from Tata Harper promise not only results but also a modern sensibility that extends to one's love for nature as being the same for oneself.