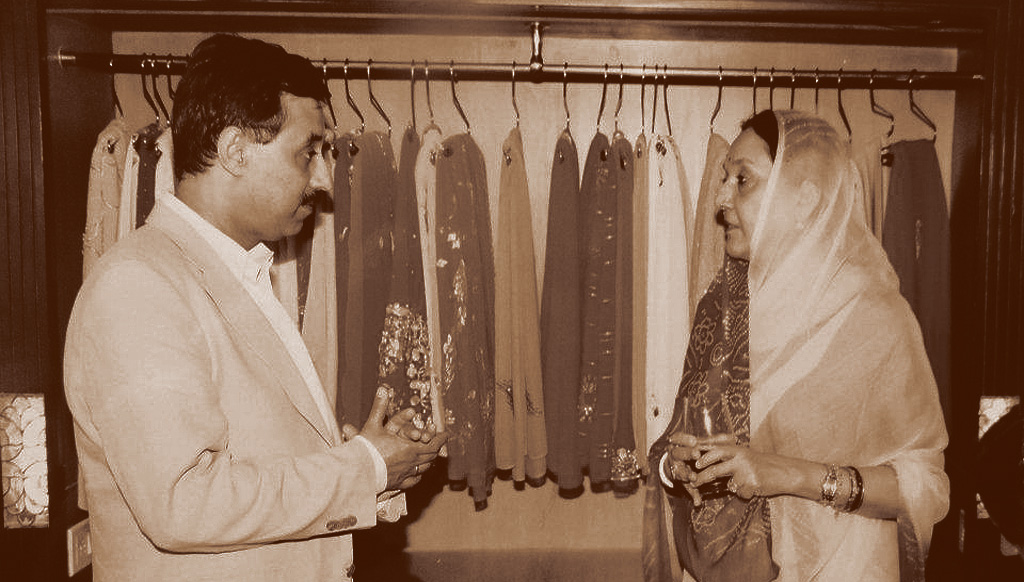 A ROYAL CHOICE | Her Highness Rajmata Padmini Devi of Jaipur at Rukhmani
Rukhmani's clientele includes some very loyal customers such as, Princess Diya Kumari of Jaipur, Rajyashree Kumari Bikaner and Yuvrani Chitrangada of Kashmir, as well as Bollywood residents Kangana Ranaut and Zarine Khan
In their modest showroom in Civil Lines in Jaipur, Vineeta Singh, Sunita Panwar and Bindu Chandela keep themselves busy by weaving unique sartorial splendours. Recently, Nita Ambani, the better half of business tycoon Mukesh Ambani, came calling on them to sample their treasured masterpieces.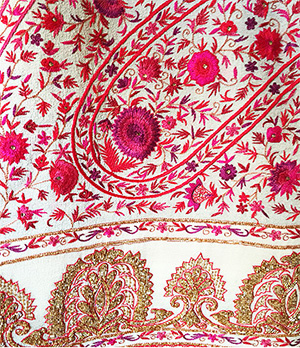 "Mrs Ambani picked up a Rs 68,000 shawl made of georgette and chiffons," says Vineeta. "It took us around six months to create the shawl since the work on it was very delicate."
Vineeta, Sunita and Bindu, all siblings, are exponents of chiffon sarees and wedding trousseau. They are founders of Rukhmani, where, interestingly, the who's who of the country drop in more than often to buy something unique—something they wouldn't necessarily get in a run-of-the-mill luxury store.
"It started as a hobby and still is," Bindu says. "We have never thought of expanding. We are quite happy with just one store. People from all over the world come here though we have never advertised."
The store is named after their grandmother Rukhmani. Its clientele includes some very loyal customers such as Princess Diya Kumari of Jaipur, Rajyashree Kumari Bikaner and Yuvrani Chitrangada of Kashmir, as well as Bollywood residents Kangana Ranaut and Zarine Khan.
Demand soars during the wedding season. Customers prefer buying heavy pieces for weddings and receptions. "People like us for our bridal wear. They love our made-to-order Poshaks (a Rajathani outfit). Traditional designs such as peacocks, birds and paisleys are most popular," Vineeta says.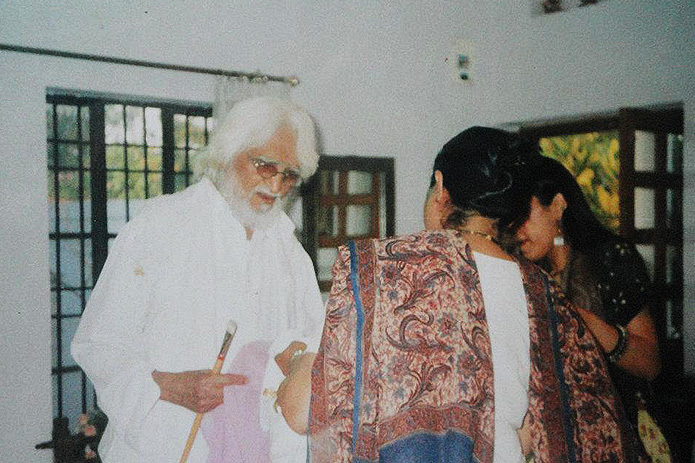 Each made-to-order Poshak takes around three months to complete. Some of them are made from pure gold and silver threads on satin, tissue and silk.
In summers, people prefer shaded chiffons in pastels with delicate work on them. Small motifs, Zardozi and sequin work are quite popular for casual occasions.
Rukhmani owes its birth to a salesman in Johri Bazaar, the sisters say. "Whenever there would be a wedding in the family, our relatives would take Vineeta along for selecting their trousseau. She would go to Ranas in Johri Bazaar every second month to shop for our relatives. One day, a salesman asked her why she doesn't start creating her own designs," says Chandela.
Bindu, Sunita and Vineeta started selling sarees from their home in 1996. "We were neighbours and our husbands were in the travel business, so we thought of doing something together. Our first saree was bought by Mrs Dutt, wife of the erstwhile principal of Mayo College, Ajmer," says Bindu.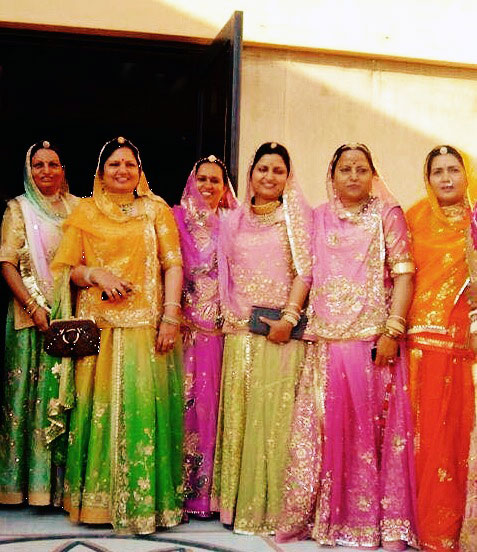 It was the word-of-mouth publicity that helped the sisters create a brand and in just two years they managed to open a store in Jaipur. "Today, owning a Rukhmani saree is a status symbol in the Rajput gharanas," she says.

Rukhmani's beautiful designs are inspired by paintings and flowers. Traditional designs such as peacocks, birds and paisleys are the most popular.

Rukhmani has 20 craftsmen at present. While they talk about their own favorites, the sisters say that they love working on tissue and a lot of colour combinations. Red and gold are their favourites. But sometimes, they prefer three different colours for lehnga, blouse and odhni.
Vinita's beautiful designs are inspired by paintings and flowers. "I have been travelling a lot since my childhood. I get to see a lot of things which draw my attention to the finer details," she says.
For the sisters, real luxury is in quality and craftsmanship. "That's what we stand for," says Chandela.