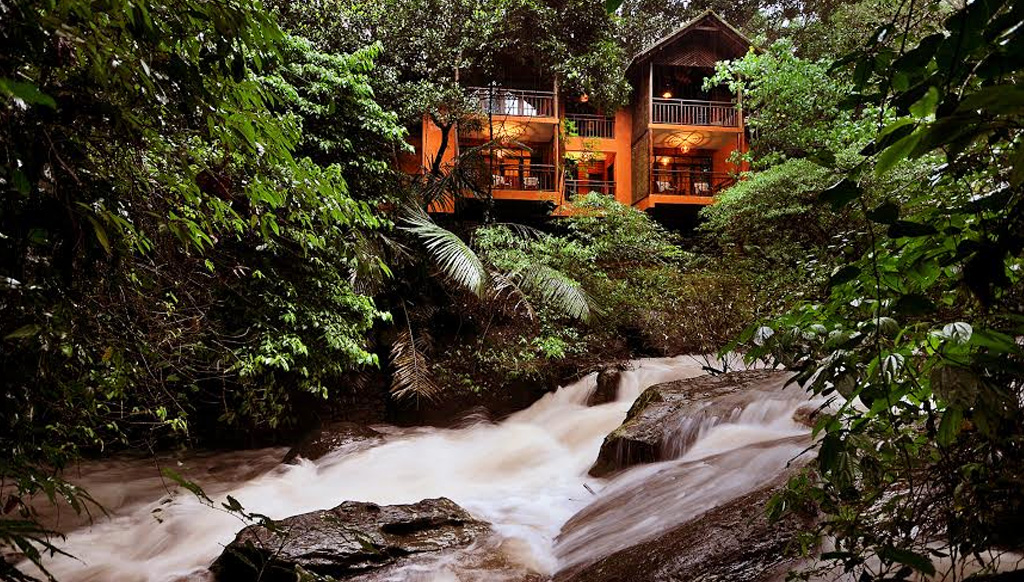 RIGHT AS RAIN | The magical manner in which monsoons induce life into beings and bring about ethereal shades of green have everyone–from poets to artists–in sheer awe! Photograph: Vythiri Haven resort
Anyone who says sunshine brings happiness, has never danced in the rain!
We at The Luxe Café totally believe in this saying,
Come July-August, and it is that time of the year again when the monsoon drenches India right from the north to the south. Without a doubt, a monsoon vacation is the best way to make the most of this indulgent weather. But confused over which place to choose?
Fear not, it's The Luxe Café to the rescue! Here's presenting our fabulous mix of some boutique properties (mind you, not hotels!) from every corner of the beautiful subcontinent…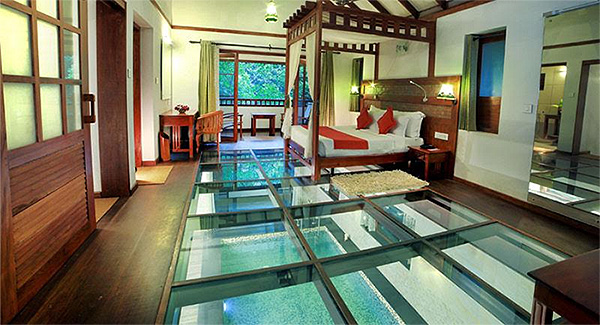 Vythiri Resorts, Wayanad, Kerala
Quietly elegant and exclusive, the Vythri Resort is magnificent place to be in with some truly breathtaking views. An idyllic destination for the vacationing and business traveler, the very place, Wayanad, is a quaint hill District in north western Kerala, in a region of immense beauty and a dazzling variety of wildlife and fauna.
One has the option to choose from a variety of accommodations at the resort. First, there are 5 Tree houses (including 1 exclusive child friendly Tree House) set high above the lush canopy of the rainforest. Then, there are the exquisite cottages with spacious sit outs, elegantly furnished and facing the stream downstream.
But our favourite are the honeymoon villas which are nothing short of an architectural genius! The four romantic villas come with private swimming pool with covered sun deck on the basement floor and a bed room on top floor with a glass flooring.
This indeed is a secluded hideaway for a select few looking for that tranquil space with the gurgle of the frolicking stream and the chatter of the birds for company.
Tariff per night: INR 11,500–30,000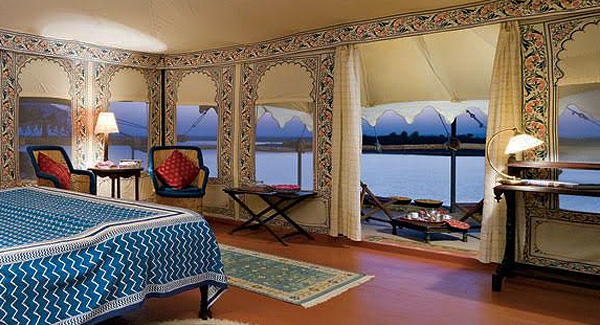 Chhatra Sagar, Nimaj, Rajasthan
In the late nineteenth century, Thakur Chhatra Singh of Nimaj, a powerful noble of the desert kingdom of Marwar (Jodhpur), decided to dam a seasonal stream flowing through his estate. His vision was to create a water reservoir which would harvest the monsoon rains. The dam was completed in 1890 and by early twentieth century Chhatra Sagar had developed into a lush green oasis. The reservoir was named Chhatra Sagar in his memory.
With its wide open spaces and enchanting views, it became the entertainment venue of choice. To capture the outdoor "big sky" feel of the place, permanent construction was deliberately kept to a minimum.
A fresh luxury tented camp was created for each party. For many dignitaries visiting Nimaj, "Camp Chhatra Sagar" was the highlight. Legendary sporting parties with high tea and exotic dinners became a regular feature.
Indeed, luxury tents have always been an important part of Rajput lifestyle. Constant campaigns in far flung lands meant long stays in tents under inhospitable conditions. Tents were the only luxury available and soon these "homes away from home" evolved into mobile, mini-palaces. Chhatra Sagar captures the essence of this romance.
Today, the place is a sight to behold. The Tents face east overlooking the lake and have private sit outs offering panoramic views. Each tent is carefully hand stitched with interiors block printed in traditional floral motifs. They are spacious, comfortably furnished with locally crafted furniture, and have well appointed private facilities. Two of the tents are set atop a hill providing complete privacy and a breathtaking 360 degree view. The food? Perhaps, the best in the region!
Tariff per night: INR 30,000–33,000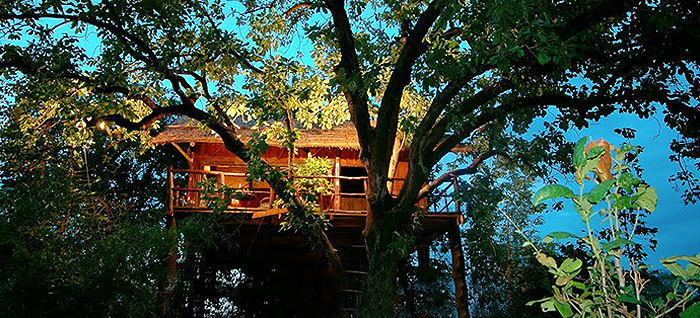 Tree House Hideaway, Bandhavgarh, Madhya Pradesh
In lush 21 acres area of green land lies the Tree House Hideaway – offering you that awesome option of experiencing the snug life inside the rooms or to venture out in the tiger-infested wild.
There are a total of five hideaways–Mahua, Tendu, Peepal, Banyan and Palash–named after the trees on which they are established. The designs are a fusion of contemporary design and traditional jungle living with earth tones and eco essentials.  All Tree houses have modern attached bathrooms with 24hrs temperature controlled water, living area, mini bar, split ACs, mosquito netting, writing table and chair, and loungers in the balconies. Local craft knowledge and traditional expertise has been used at all quarters to ensure that the Tree Houses blend harmoniously with nature.
Dining hall is built around a century old Mahua tree, in two levels. The ground level serves as a cozy dining hall and the upper floor as a bar cum lounge known as 'The Watering Hole'. Dining hall offers Indian, Continental and Barbeque meals personalized to requirements of the guests.
Take your pick–spend your time unseen and undisturbed in the intimacy of your room or follow your wild call and go looking for wild animals and birds in the Bandhavgarh Tiger Reserve, home to the densest tiger population in India.
Tariff per night: INR 27,000–30,000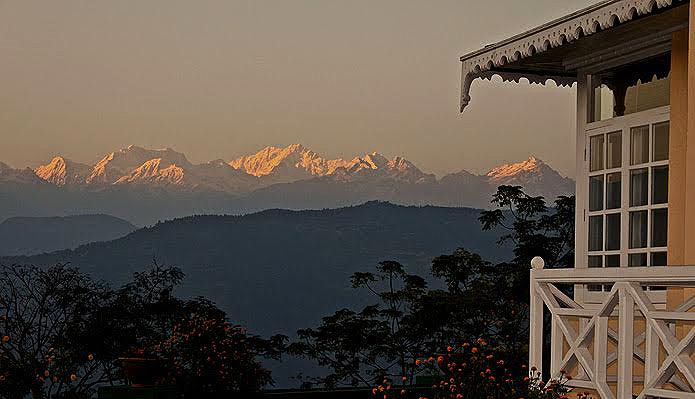 Glenburn Tea Estate, West Bengal
About a pleasant hour's drive from Darjeeling, the 1600-acre Glenburn Tea Estate holds on to a legacy of a rich colonial past. Established in 1860 by Scottish tea planters, the pleasingly rustic yet tasteful property is now owned by Prakash family, a tea-planting household from Kolkata popularly known as the Chaiwala.
Anshuman and Husna Tara Prakash have renovated the property. The property has an awesome view of the pristine snow-capped Himalayas that extend all the way down to the bank of two meandering rivers, Rungeet and Rung Dung. Inside, the beauty of nature is fittingly complimented by Spanish mahogany upholstery and European paintings.
The main attraction of the property is The Burra Bungalow, which is the original planter's guest house consisting of four charming and spacious individually designed suites and decorated with wonderful hand-made furniture, muslin curtains and bed linen all embroidered with Himalayan flowers and butterflies. Vases of cheerful flowers are in every nook and corner, freshly picked from the terrace garden that overlooks the valley.
The sit down dining room is also a unique feature which doesn't have any fixed menu. Guests are free to order as per their preferences. "We want Glenburn to be a foodie destination," says Husna. The food is organic and sourced locally. And the green tea ice cream and tea pakoras are absolute delights.
Tariff per night: INR 30,000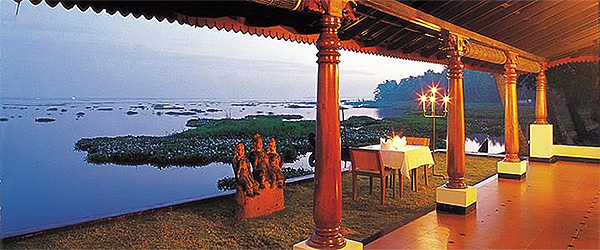 Privacy at Sanctuary Bay, Muhamma, Kerala
What's in a name, they say? Well, in case of this property, everything! Called privacy this place is marks an end to your search for that perfect place that offers a secluded and personal setting. Located opposite Kumarakom, a 45 km drive from The Malabar House, privacy at Sanctury Bay is accessible by car, boat & houseboat.
Privacy has two distinct bungalows: The water front bungalow is an all air-conditioned suite with bed, dining, living & two bathrooms. The heritage bungalow, a relocated ancient wooden cottage, has two bedrooms with bath gardens, separated by the hall. Both bungalows have private sit outs and verandahs overlooking Lake Vembanad. The pool is half way between the two bungalows. Also in the offering is a large landscaped tropical garden and WiFi to stay connected.
Meals are served on the lawn, poolside or your private terrace overlooking the lake. The management also maintains mountain bikes to explore the surroundings as well as a country boat, propelled by a noiseless electric motor, that takes you for bird watching on the lake.
No wonder The Sunday Telegraph has called privacy 'the smallest, but possibly the most romantic hotel on earth!'
Tariff per night: INR 14,000–23,000