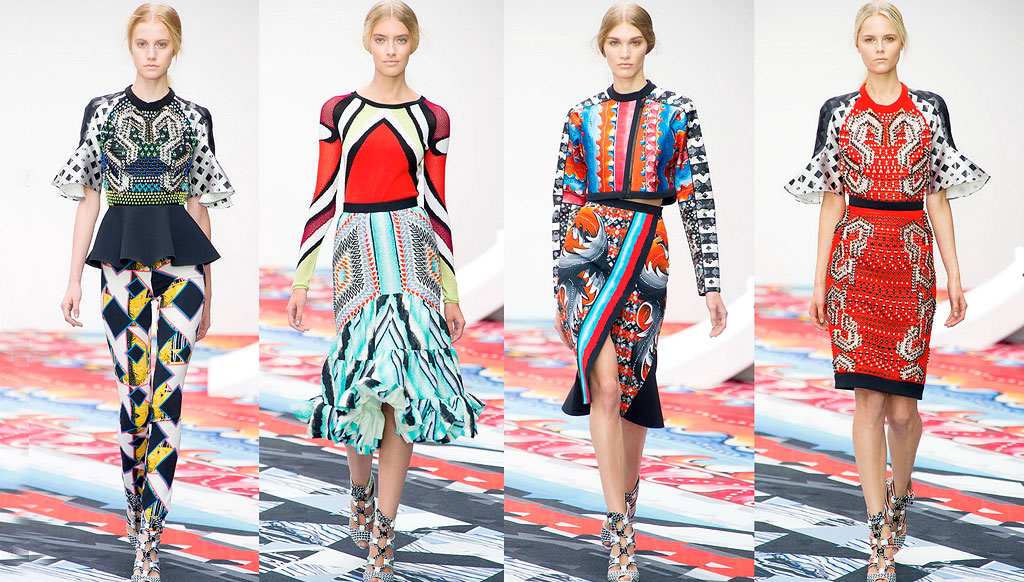 EMBRACING PRINT | In couture's posh print-infested courtyard, there is an ongoing visual fest of prints and patterns vying for their place as top trends
Fashion, of late, has become a lot about prints, patterns and the play therein. Riding high on the graphic waves of colours and characters, the prints trend is also becoming the meeting ground of fashion and art. We are much in love with the fun and fantastic quotients of all things patterned, and bring you a handpicked guide to work your way through to the coolest and chicest print trends of 2016
Now, the trend of novelty prints is not a new one but it sure is one to stay. So talking about novelty prints, we are referring to motifs not just abstract or florals. They could be patterns deploying themes, even referring to places, activities or an art work. From simple to layered ones, from monochrome to multiple-coloured and from serious to whimsical, prints are everywhere, all kind, and much loved With well known designers and indie fashionistas going onto having fun with florals, figures, and even newsprint.
While designer Mary Katrantzou is credited with starting the photorealistic print trend, she  has moved on from the postage stamps and Ming vase designs to more gorgeous motifs. In the world of haute print couture, there is also House of Holland with its rave inspired marbled patterns, Duro Olowu with ornate botanicals and JW Anderson with pop art style comic book illustrations to jazz up routine wear. Wearable art is not a concept but a meeting point of the magical with the mundane, if one were to think of its appeal. And it is a global preoccupation with prints that is evident now. While vintage and pop art inspired kitchenware, home decor is now a mass market presence, indie designers have also brought in their own take on the trend. So, shoppers in India can look for quirky prints on pretwear at MasabaLite or go for some flowy, bright florals at Anupama Dayal, or even indulge in buying nostalgic prints with the Pacman print sari by Yogesh Chaudhary. The younger crop of Indian designers offer many options for the print obsessed, so that ensembles featuring Alfred Hitchcock's favourite birds to sombre military photos are part of designer Sneha Arora's offerings, mirrored prints mark the tad-outlandish costumes by Arunima Majhi and tribal prints inspired by Ethiopian Mursi tribe grace Neha Agarwal's warrior princess creations. Going beyond borders and looking for experiments with print can further lead one to explore the delicate bespoke prints, inspired by Japanese culture, classifying Pakistani designer, Sania Maskatiya's refreshing Sakura collection.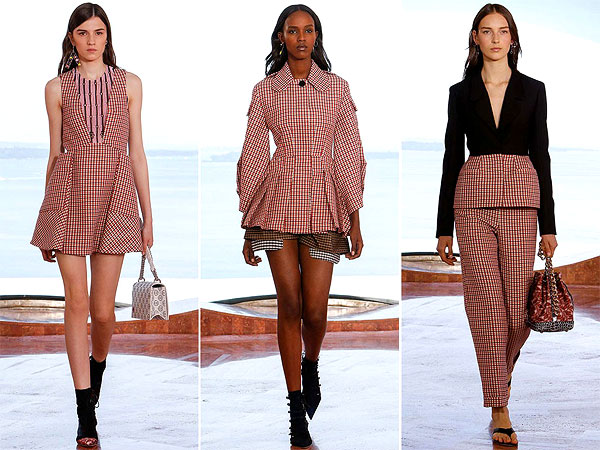 Moving beyond the context, let's focus the spotlight on some of the major trends vis-a-vis the euphoria over prints, that have come to be discernible parts of eponymous designer collections, leading to imaginative forays, some cultural exchanges of textures and tropes, and a general excitement inspired by multifariously storied garments which are not only layers, cuts, silhouettes but also about an interplay of patterns, prints and the techniques there in.
Ghingham Garden – Ghingham patterns channel in a vintage British chic and have that fresh schoolgirl aspect but in the hands of designers, this acquires a studied sophistication. The misleading simplicity of ghingham has well sparked some creative takes on this pattern with Marc Jacobs long dresses, where the story starts with ghingham and fades into a floral cornucopia, doing a print-on-print number to perfection. Victoria Beckham's form hugging ghingham dresses with plunging necklines brought together glam and ghingham, while Stella McCartney went sporty with collared variations of the checkered fabric. All in all, there is no bidding goodbye to this one soon.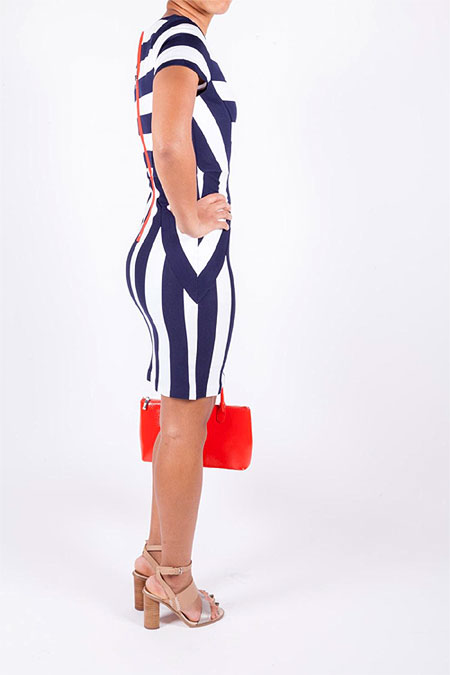 Statement Stripes – Approaching summer brings to mind the cool waves of nautical stripes which have been spotted on the runway year after year in collection of designers, beyond respective industries. From candy coloured stripes at Stella McCartney's to rainbow stripes from Jonathan Saunders, to thick vertical ones seen in Dior's last a Fall collection, stripes can funk up jackets like Anna Sui's, to pants with retro stripes from Marc Jacob, to dresses from Tanya Taylor. From straight up stripes, to knitwear with bands, to textured and patterned stripes, there are ways to sport your stripes with pride.
Arty Scribbles – From the very 80s conversation prints by Libertine and Ground Zero, to kid scribbles so favoured by Dolce &Gabbana on their mini dresses and skirts, 2015  saw logo tees, head-to-toe lettering, and slogans on tops, jerseys, and pant legs. When Angelina Jolie wore her Versace wedding gown with its train covered with doodles and scribbles by her kids, she was feeding into the trend of literatures-meets-fashion in a major way. This year also, 3d printed garments with lettering and featuring works by writers, poets, artists among other kinds if word art. Closer home, there have been interesting experiments with literal prints, dating a bit back, with designers like Joy Mitra creating a line dedicated to Tagore's portraits and poems and also incorporating Tagore's signature into some of his pieces.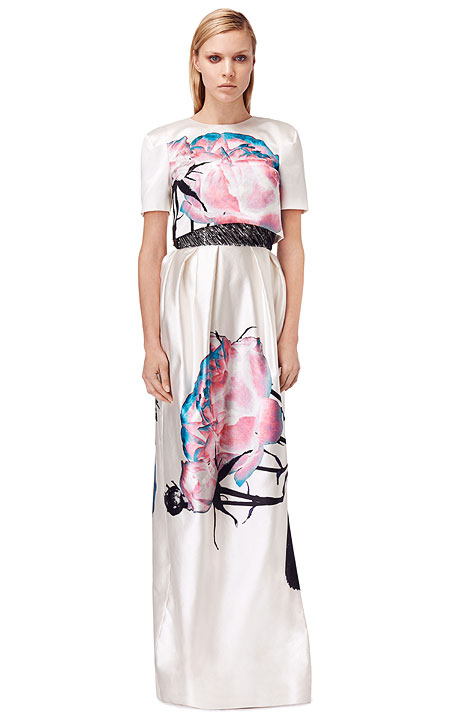 Handpainted Romance – when Israel based design student, Danit Peleg, 3d-printed her entire graduation collection at home, she made runway fashion seem like a DIY project for the future as she adapted painting into her creation using innovative material and cutting edge technique. But preceding this 3d printed reality, the wishful nostalgia of hand painted designs that designer Joseph Altuzarra channeled in his Spring/Summer 2016 collection featuring lightweight fabrics and hand-painted prints imbuing it all with a feel of urban romanticism. The paint brush prints also come to life in Prabal Gurung's feminine dresses and go onto dreamier heights with water colour abstracts and swirling prints from Giles.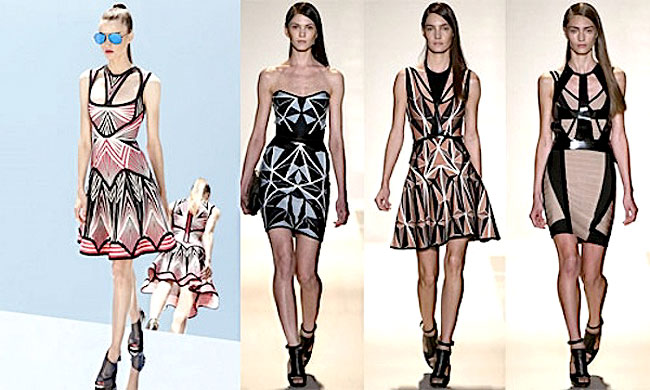 Geometric Illusions – Purposely dramatic in its artistic distortion, big and bold graphic prints have found their place on the ramp and are proving to loveable in their stubborn hold over it. A lesson in geometry seems to be the starting point of it all as grids, triangles, concentric circles and more in black and white prints and colourful palettes made way into designer collections, be it J Mendel's, or in Dior's Fall collections. But taking graphics a bit further is the optical print trend which is all about creating a psychedelic illusion as seen in the black and white pieces which were part of the Emilio Pucci runway collection or in chromatic prints palette of the latest Byblos Fall collection showcased at the Milan Fashion Week. Purveyors of this print trend closer home have individual designers and entities like Being Human who have incorporated op-art prints in their womenswear collection.
Elaborating on this trend, designer Gautam Gupta of Autre has been quoted as saying, "Fashion connoisseurs went into a tizzy as designers sent out Rorschach-style images, radiating lines and mind-melting, eye-crossing illusions that created a hypnotic reality-altering daze. Optical illusion, for me, is all about how strategically you wrap, unwrap, play and unplay stripes, prints and swirls, etc. to make an effective collective composition that will hypnotise the viewer's mind."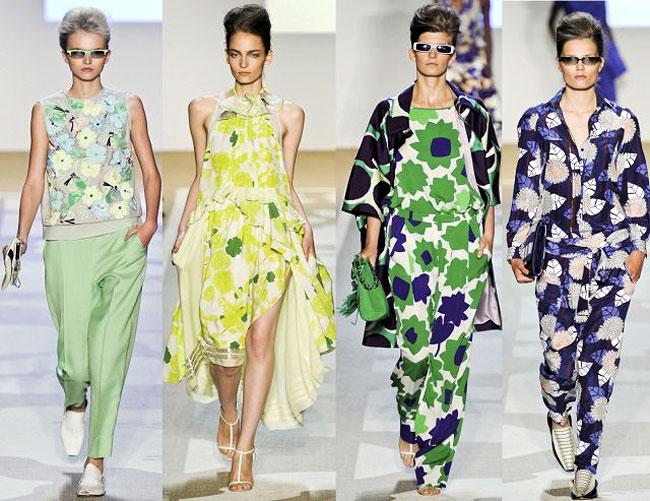 Flirty Florals – One of the dominating trends at the New York Fashion Week was floral, abstract and realistic, with tropical fauna and floral being definite faves. Bringing the blooms to life were hand painted, photographic prints and also one-dimensional motifs or embroidered ones. Announcing the advent of spring, and adding in the cool to a summer wardrobe, florals are quintessential elements, be it the garden-inspired variety or even botanically-oriented motifs. While last year saw Hermes showcasing soft, romantic, hand-painted florals, this year is looking forward to some red hot florals as seen in the poppy inspired collection by Michael Kors, or in the red carnations finding place in Oscar de la Renta's embellished creation. Talking of florals can never be complete without the mention of  Giambattista Valli or  without at Dolce & Gabbana sumptuous rose prints, or even Marni's use of both flowers and leaves in print, and Diane Von Furstenberg conjuring 'India' with her florals and prints collection at the New York Fashion Week last September.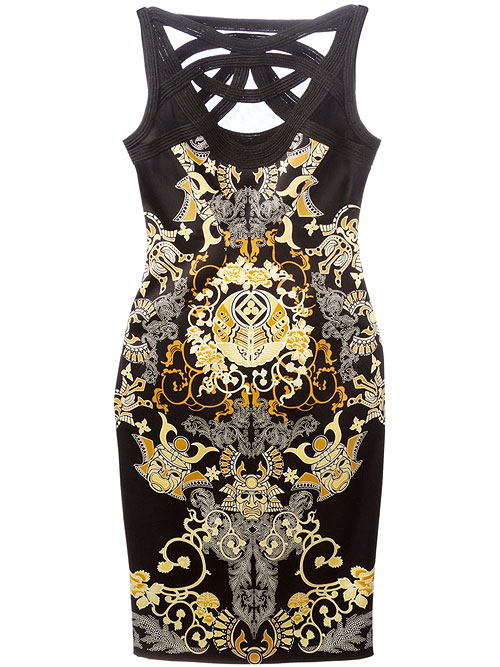 Tribal to tie & dye – while Aztec and other exotic prints brought in tribal glam on the catwalk in the last seasons, the love for ethnic prints rages on as Etro looked towards Mesopotamia for inspiration and Just Cavalli's borrowed from aboriginal aesthetics and Anna Sui recreated some Mongolian patterning – in their Fall/Winter 2015 collections. The Cavalli resort wear collection for 2016 also saw traditional kimono prints meeting an Art Nouveau flourish in breezy, beachy creations, some of which also featured the brand's favourite leopard spots. Moving in from the tribal side of things to something more hippie chic, tie-dye is being hailed as 2016's print trend of choice. Totally worth checking out here are Paco Rabanne's tie-dye mini dresses, Thakoon's innovative combinations of plaid and tie-dye, Altuzarra's pieces with side slit details and Michael Kors' separates like day coats, flared trousers among others. On home shores, there is Aneeth Arora's Pero, Ikai and Urvashi Kaur working the tradition into their sexy, sustainable designer oeuvres.