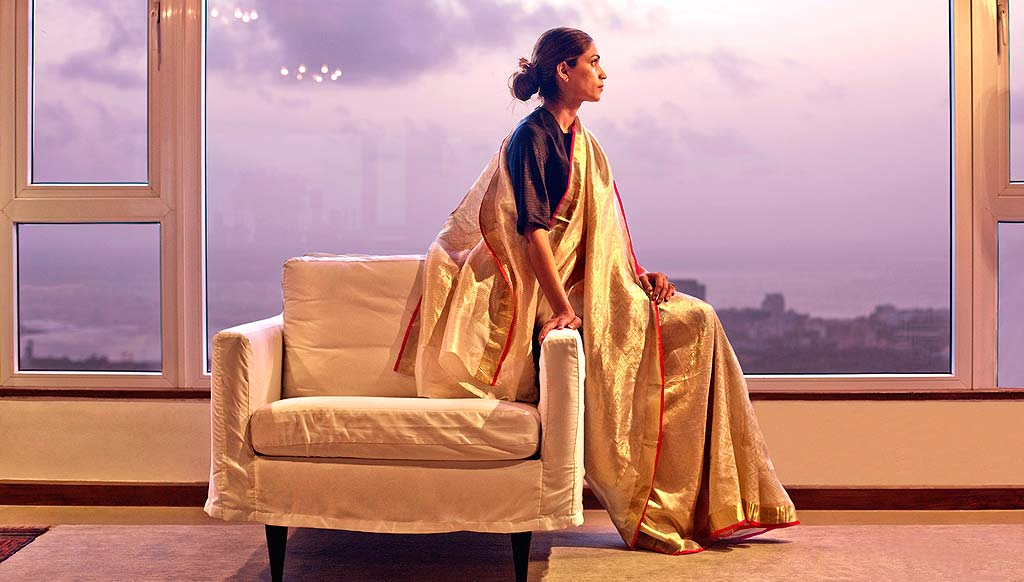 SIX YARDED DREAM | Raw Mango's handwoven sarees explore and energise the traditional Mashru and Brocade weaving techniques of Varanasi
The reigning star of the Indian heritage textile revival, Sanjay Garg, talks to The Luxe Café of his love for tradition, textiles and more in a candid tête-à-tête giving you an insight into his creative ethos fuelling brand Raw Mango
While designer Masaba Gupta and actress Soha Ali Khan took to Raw Mango as their brand of choice for bridal wear, designer Sanjay Garg took to the ramp opening the Amazon India Fashion Week Spring Summer 2016. Speaking of his collection for the fashion show, Sanjay Garg [accompanied by his disarming smile] said, "The garments in this collection aim to bridge the gap between textile and fashion, and at the same time, blur the categories of traditional and modern, old and new, past and present. The garments present technical advancements in Mashru that make the 'old' textile contemporary, while retaining the luxuriousness that has always been an important part of it." This unfailing commitment to a vision is what makes Raw Mango creations resplendent, on the ramp and on the celebs who vouch for it as their garment of choice when making a stark statement is on agenda.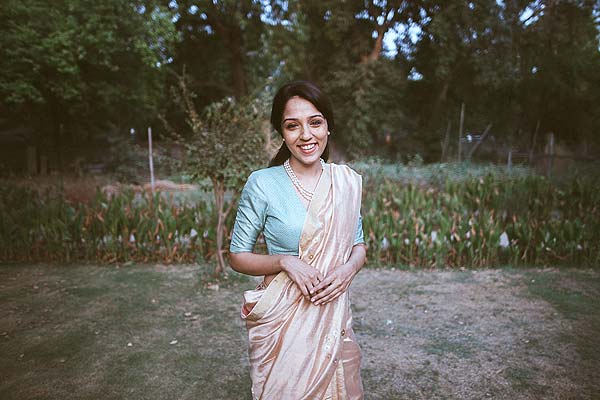 Raw Mango, a niche design label for hand-woven sarees and textiles, is known for its minimalist design and understated style marking its sarees and heritage garments retailed in Delhi by-appointment-only at their studio tucked away in Chhatarpur. The brand started with Chanderi, a hand-woven fine, light and luxurious textile. Today the brand works with nearly 500 weavers in clusters across the country on a variety of fabrics including Mashru, Banarasi and Kolkata silk among other heritage fabrics. With five of its sarees displayed in the permanent collection of the Victoria and Albert Museum in London, UK, Raw Mango is synonymous with ethnic elegance in Indian style thanks to its distinct visual signature. The Luxe Cafe caught up with brand's creative head and founder Sanjay Garg to know more about his love for vintage fabrics, heritage techniques and textiles that celebrate the Indian aesthetic.
The Luxe Cafe: Why the name Raw Mango?
I always appreciate the beauty in imperfections. That's where I can do the best. Simplicity is the key to luxury . To me, as Japanese designer Yohji Yamamoto said, perfection is ugly and Raw Mango is the perfect metaphor for imperfections.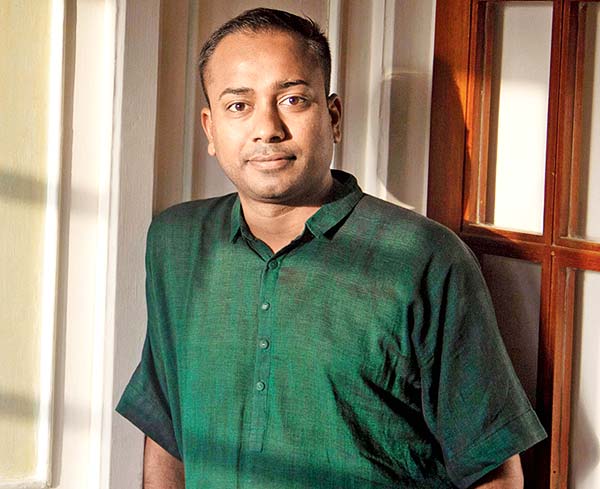 Why did you start with Chanderi?
I had worked with Chanderi earlier. I always loved the material and liked experimenting with the fabric. The drape of Chanderi is very fussy, so we realized the need to make it softer and drape-able. We started working with a couple of weavers to make the designs more contemporary and wearable. We removed the starch from Chanderi to give strength to the fabric and later in the post-production stage we tried a few tricks to make the fabric lighter and drape-able with a beautiful sheen. No one could believe that hand-woven sarees could be so beautifully simple, light and drape-able. I have simply made Chanderi easy to wear. We also introduced some design innovations, such as improving the way silk was processed, which prevented sarees from cracking at folds.
Which other handlooms do you specialise in besides Chanderi?
I am currently enjoying working with Kanjivaram and Mashru. I want to experiment with a new fabric every year.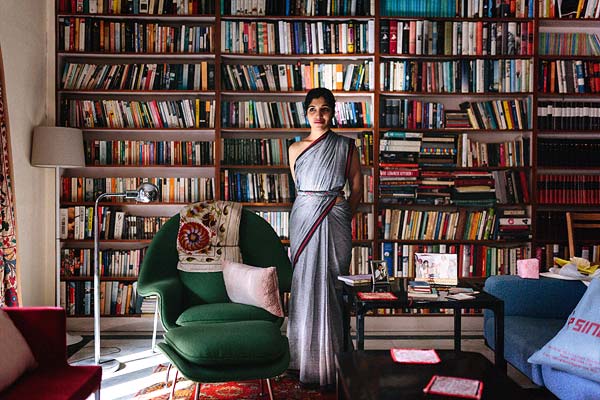 Which is your favourite fabric?
I have a constant love affair with Chanderi but at the same time I really like Mashru, which I would say is one of the most luxurious fabrics in the world. It is designed and worn by the royals.
From where do you get the inspiration to create such beautiful sarees?
Inspirations come from what you see in day-to-day life–birds, trees, nature, surroundings etc. I keep absorbing images. Every collection that you see is inspired from an era gone by or Indian folk stories.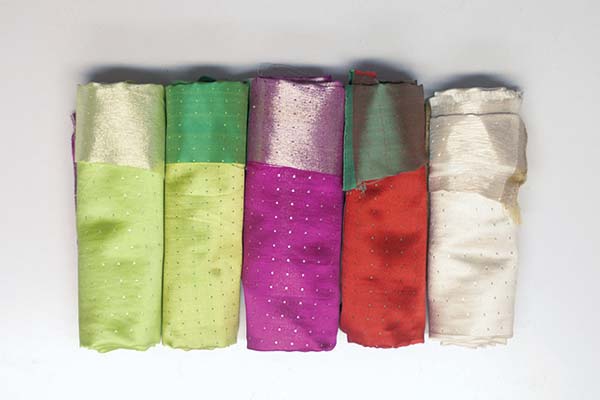 What design and colours are most preferred today?
It depends on time, occasion, weather, country, skin tone and the context. I want to change the way colours are perceived in India and that's the challenge. I changed the way lime colour was perceived and made even the most sophisticated wear lime. I don't follow any trend. If I followed, I would not have been able to achieve anything in life.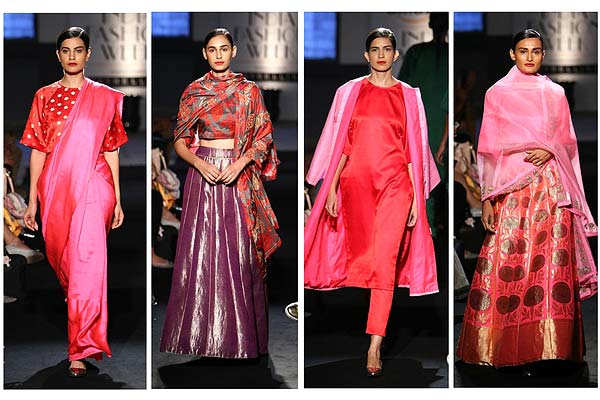 Tell us about your royal collection?
It all started after I read a book on Maharani Gayatri Devi and decided to roll out a collection of hand-woven sarees inspired from her elegance. Her style was regal and at the same time understated. We have used soft pastel colours with subtle contrast for ' Gayatri' collection. Sarees from Diya Kumari collection have been designed to give a very young feeling with delicate patterns.  While sarees from Jodha Bai collection are made with broad borders. The challenge was how we could give a new vocabulary to the Indian woman, keeping in mind her sensibilities. We wanted to focus on the day-to-day life of the nobility. Through the Royal collection, I tried to offer elegance with simplicity. Minimalism is the key to stand out and that has always been in my designs. Through this royal collection, I wanted to redefine Royalty.
Some of your sarees are on a permanent display in Victoria & Albert museum? Can you tell us about those pieces?
Five Chanderi sarees are in the permanent collection of London's Victoria and Albert Museum. They are from our regular collection, very simple ones. They wanted to document the timeframe of Indian fashion.


"Saree with zari work should never be put on a hanger as it absorbs the moisture in the air."

Any tips for the maintenance of Chanderis?
If you really want it forever, roll it on a stick. Saree with zari work should never be put on a hanger as it absorbs the moisture in the air.
What is luxury to you?
To me Luxury is raw. It doesn't always mean well finished, it can be thoroughly semi-finished. Luxury means rarity. In short, anything which is not easily accessible.