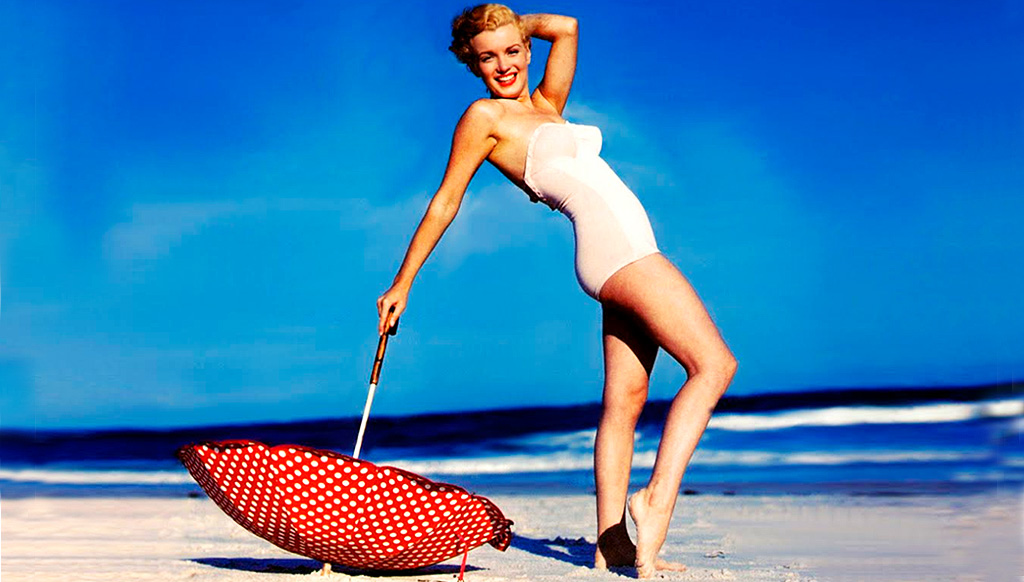 BEAUTY & BROLLY | Gorgeous Marilyn Monroe sporting the beach-perfect umbrella
The seasons might come and go but your style has to stay ahead of it. And in case you had not given any thought to the utility-only umbrella, here is a hand-picked collection of luxury brands offering collectable umbrellas and parasols for the ladies, to add to the range of statement-making personal accessories
Come sun or rain, wind or storm, or even a drama-deprived day for the fashionistas, there is but one accessory which can come to the rescue, almost immediately. And, that is the umbrella, or the parasol, or the brolly – choose to call it as you please because it has been around in all those avatars for ages ever since an enterprising Londoner, Mr Jonas Hanway, made this practical extra a popular one. While parasols have found their way in the hands of the beau monde on the Paris streets and into Parisian novels ["She opened her white silk parasols, and ran along the paths" – Nana by Emile Zola], further East, in China and Japan, rice motif-ed oil paper umbrellas were traditionally used as essential wedding items handed to the newly-weds. Hand-crafted oil-paper umbrellas are iconic of Taiwanese 'Hakka' craft, often embellished with Chinese-style paintings of birds and flowers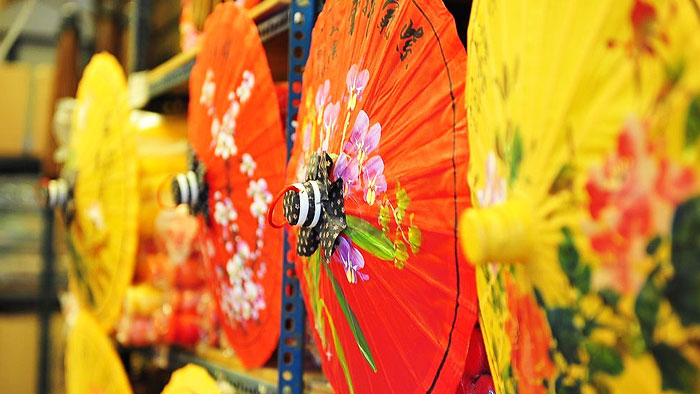 It is a colourful history that the humble umbrella espouses in its form, which is as varied as its purposes. Moving on, modern technology has also added its fair bit with seriously groovy umbrellas which can morph into other items of use, or protect the carrier from not just rain or sun, but also from darkness. So there is designer Sang-Kyun Park's illuminated umbrella that is powered by rain.Lightdrops, as it is aptly named, is an umbrella made from polyvinylidene fluoride [PDVF], a conductive membrane that powers LEDs with energy from falling rain. The 'Squidarella' colour changing umbrella, available from UrbanTrim and co-created by design house SquidLondon, is a foldable beauty, unassuming with a black and white patch pattern when dry. But once the rain hits the panels, the colours burst out, as it way, transforming a wet and grey morning stroll into something artsy and edgy. No wonder that the Squidarellas have been selected for display, both by the Tate Modern in London and the Museum of Modern Art in NYC.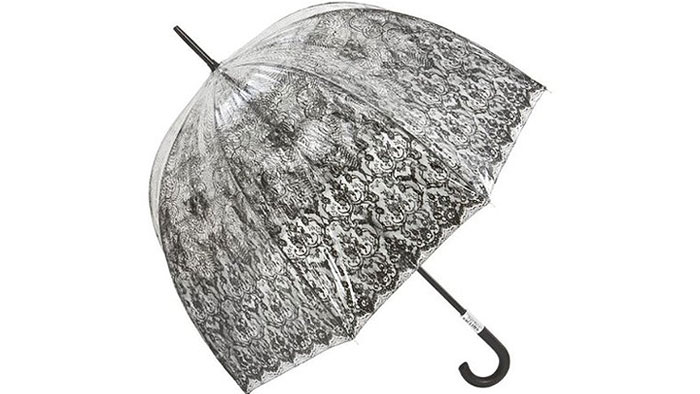 But what is quintessential an item of practical use is also, very much, a fashion supplement. And there is no denying that haute couture fashion houses have contributed to further propagation of umbrella art', as it were. One of the shapes which are toted around for its conspicuous shape, and also for utmost protection from showers without the fear of impeded vision is the bell shaped umbrella with a high roof related to traditional craftsmanship.  There is no disputing the diva quotient of the dome-shaped transparent lace-print umbrella which is feted Frenchdesigner, Jean Paul Gaultier'screation and spells a charming web of lace around you. While the canopy for this one is made of 100% polyester and is tougher, there are those who would prefer some nobler materials for a jaunt in the sun. And here we suggest looking at the impressive range from the Italian house of Il Marchesato, famous for their handmade luxury umbrellas fitted with fibre glass ribs, gilded parts and excellent fabric for the canopy. There is a pure satinbell-shaped umbrella with a single black canopy and a ruffled edge, on which Swarovski crystals are sewn on by hand. Its sturdy wooden black shaft has a handle finished with a 5 cm Swarovski crystal.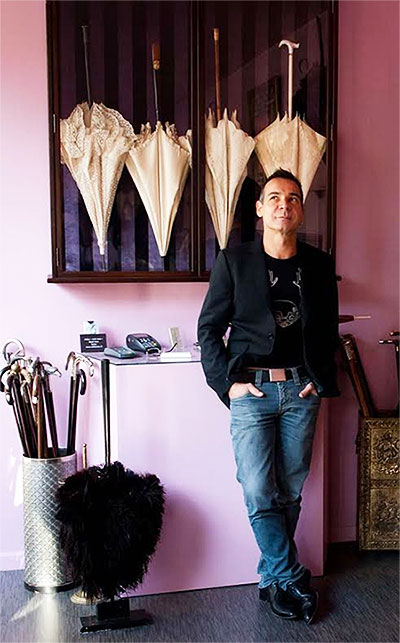 On a scout for more statement umbrellas to hold onto with pride, brings us to the parasol. While the word "parasol" (Spanish or French) is a combination of para, meaning to stop or to shield, and sol, meaning sun, the difference between a parasol and umbrella, as it were, is that the former is more used against the sun while the latter shields you from rain. Today, larger parasols are often used as fixed or semi-fixed devices attached with patio tablesor as points of shade on the beach. But the shape of the parasol, as seen in nineteenth century France, or on Eliza Doolittle in My Fair Lady puts the parasol bang in the middle of a fashion restoration story as unfolding in the ParasolerieHertault, near the Bastille in Paris, where Michel Heurtault is the umbrella doctor, or rather the master craftsman who works with rare tools,elaborate techniques, sumptuous fabrics and precious materials in his bijou atelier to produce haute couture and handy umbrellas and parasols. As he refurbishes antique umbrellas and creates custom pieces with jade, gold, treated silk, taffeta, lace, organza and such, he is also your go-to man for made-to-measure wedding parasols, be it in cream silk trimmed with Chantilly lace, or one in embroidered silk complimenting your dress.His parasols are weather-proof heirlooms to be handed down the generations, even as his creations are commissioned by famous royalty, designers and the fashion connoisseurs of the world.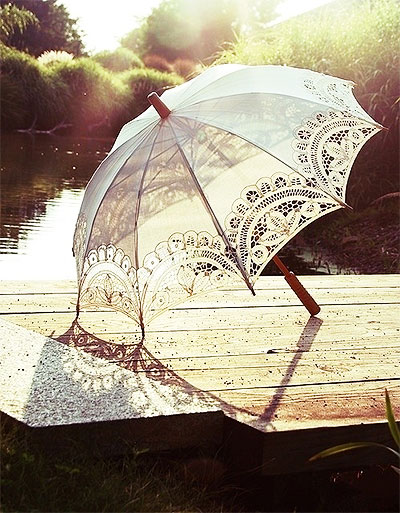 If something more Italian is what you desire, then the name is Pasotti, a family-run Italian luxury brand dating back half a century earlier, dedicated to handmade bespoke umbrellas and parasols. There is no denying the innate grace of a Pasotti parasol which spells Victorian chic with a beige canopy coming alive with thick black lace edging. Going along the feminine chic route, there is Chantal Thomass,internationally renowned for her glam lingerie collections, with an enviable collection of personal accessories flaunting sensuous details like on her lingerie. Combining traditional skills with avantgarde design, these decadent parasols and umbrellas are hand crafted to make them every fashionistas 'dream. With a sun protection factor of 50+, the parasols come in for rescue even when it rains as they are waterproof too. One can choose from among the interesting shapes with intricate details such as the papilion lace pagoda parasol with its peaked dome in a bright cerise pink, with a rich black butterfly lace lining and a gathered black lace edging to the outer canopy. Or a drape parasol with the top canopy lifted and tied into a sumptuous bow, revealing its contrasting underskirt in stripes, also from Chantal Thomass which makes for a French-inspired perfect day-to-evening accompaniment.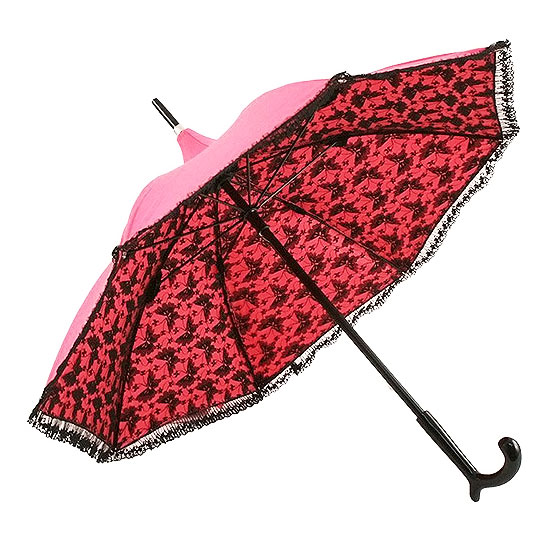 Back to the umbrellas, and we are spoilt for choice again with the walking length umbrellas which add a bit of old world androgyny to the look. While there is a bag to hold onto, an umbrella on the nook of arm might just make you look more ready in style for the world and the weather alike. A classic long handled umbrella with a spacious canopy is a good idea, and to add that dash of inimitable cool, there is one with arty black and white line drawings of a Parisienne scene -the pedestrian bridge, Ponts des arts, the Eiffel tower and typical Paris street lamps – on cream fabric. Should this sound luscious to you then you can look up the Les Ponts de Paris Umbrella by Guy de Jean, exclusively designed and made in France.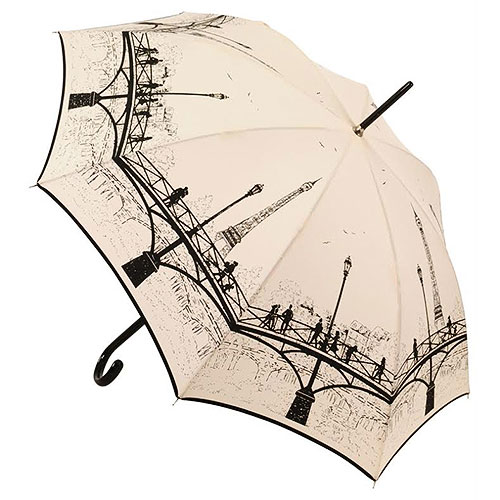 Whether considering long handled umbrellas or the foldable ones, you can also look at the ones with a double canopy as it is so much nicer to have a stunning inside view all to yourself! The double canopy umbrellas have the ribs covered with a printed inside and it helps as your scarf or hair won't get caught in it. There is one which is a stand-out, an all gold one from Fornasetti, the multi-faceted artist who has been feted as the 'Oscar of Fashion'. The outer canopy of this beauty is made of golden lurex fabric and sports a shiny border. The inside of the canopy depicts the mysterious image of a woman in eight different variations – a typical Fornasetti motif. This handemade-in-Europe umbrella comes with frame and handle also in gold which can be sheathed in the black fabric case and carried around the shoulder.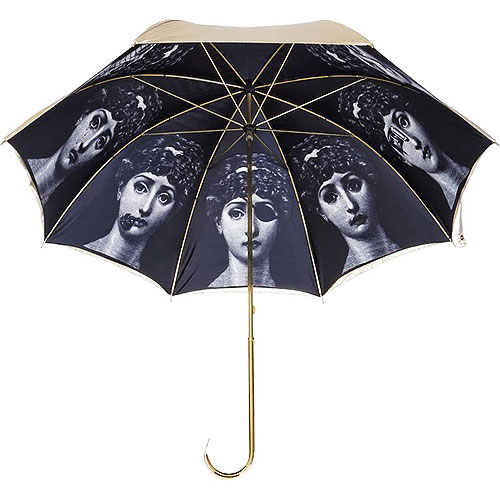 If going super mini for maximum economy of space, but with an edgy shape, is what you desire then the Sprout Umbrella by designer Matthew Swinton is for you. Surprisingly compact, the canopy and all the hardware can beencased in the handle of the umbrellas when closed. A knob on its face turns to unlock the inner mechanism leading to your 'sprouted' canopy protecting you. In all, it is an experience to be around this design innovation, whether flaunting it when out or just marvelling at it indoors.